Membrane active peptides

Our research is focused on studying and computationally modeling the protein machinery that drives membrane biology. Lipid bilayer membranes are bi-molecular lipid sheets, roughly 3-6 nanometers thick, that protect and compartmentalize the cellular machinery. Communication and transport across lipid bilayers is achieved by proteins associated with or embedded into the bilayer.
| | |
| --- | --- |
| | |
| MD Simulation of spontaneous insertion of the antimicrobial peptide PGLa into a DMPC lipid bilayer. | Mechanism of antimicrobial peptides. The peptides adsorb to the membrane and form surface aggregates. Subsequently, they kill the bacterium either through pore formation or membrane lysis. |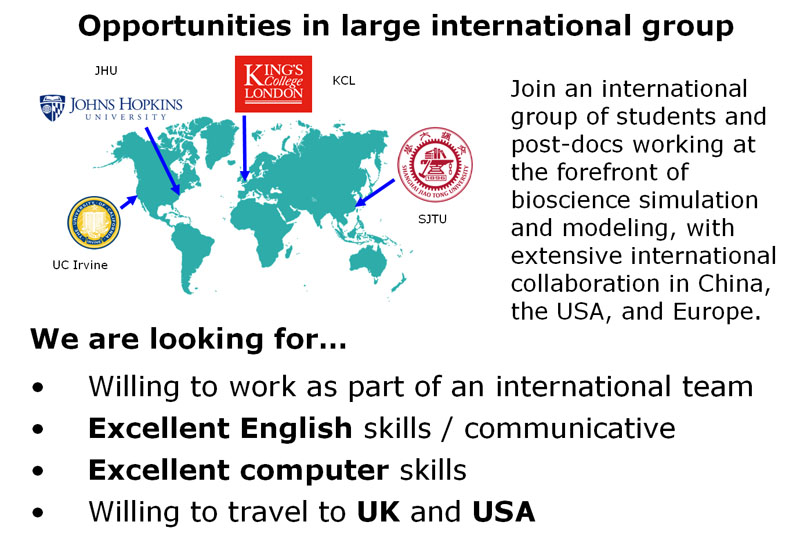 ---
China Postdoctoral International Exchange Programme
There are numerous resources for postdoc funding for foreigners to come to Shanghai. Please apply to the Postdoctoral International Exchange Programme. The research period lasts two years. Remuneration and allowances for housing, living expenses, social insurance and international travel expenses are provided to successful candidates, around 200-300 every year.
Eligibility
1. Foreign national (or Chinese from Hong Kong, Macao and Taiwan, or fresh Chinese Ph.Ds. who have not yet returned to China) who has obtained a Ph.D. degree in the last three years.
2. The Ph.D. degree should meet one of the following conditions:
Obtained from an institution in the Global Top 100 University List, or from a department/faculty ranking in the Top 100 Discipline List.
Obtained from one of the top 3 universities in one of the Belt and Road countries.
Obtained from German universities and formally recommended by the Helmholtz Association.
3. The applicants who have been recruited, shall have never been sponsored by this program or any international postdoctoral exchange fellowship program or postdoctoral innovative talents support program.

4. The applicants should be no more than 35 years old (born on or after January 1, 1984).

5. The applicants should guarantee of full-time work at the host institution.

6. The applicants who succeed in applying this program should start to work at the host institution within 3 months since the announcing date of the funding result.

Proposal Submission

Proposal should be submitted via the Internet-based China Postdoctoral Science Foundation System:

http://english.chinapostdoctor.org.cn/

Applicants should complete the proposal forms and upload the recommendations forms following the online instructions.

If you want to apply, please contact postdoctor@sjtu.edu.cn and yuanyuanchen@sjtu.edu.cn.

There are several application deadlines each year, the next is September 10th, 2020.
---
Ph.D. program of SJTU for foreign applicants
Come to Shanghai to do your Ph.D.! The Chinese government has large financial resources to fully fund students during their entire 4 year stay at SJTU, through their Chinese Government Scholarship. Additional local funds are available both by the city of Shanghai and SJTU. Typical coverage of the scholarships to international graduate students is:
Monthly stipend (CNY 5,000/Month)

Tuition (CNY 45,500/Year)
Health insurance
Accommodation allowance (CNY 1,500/Month)
Students are usually provided on-campus housing for CNY 50 - 160/Day.

Apply
Program Details: InternationalGraduateAdmission2020.pdf
Email: gs.admission@sjtu.edu.cn
Tel: +86-21-34208238
Address:
International Affairs Office, Graduate School,
Shanghai Jiao Tong University
Room 331, Chen Ruiqiu Building,
No. 800 Dongchuan Rd., Shanghai 200240, China
Info on the China Scholarship Council (CSC)
http://www.campuschina.org/scholarships/index.html
Info on Shanghai local government scholarships
https://www.chinesescholarshipcouncil.com/local-government-scholarships
http://study.edu.sh.gov.cn/en/